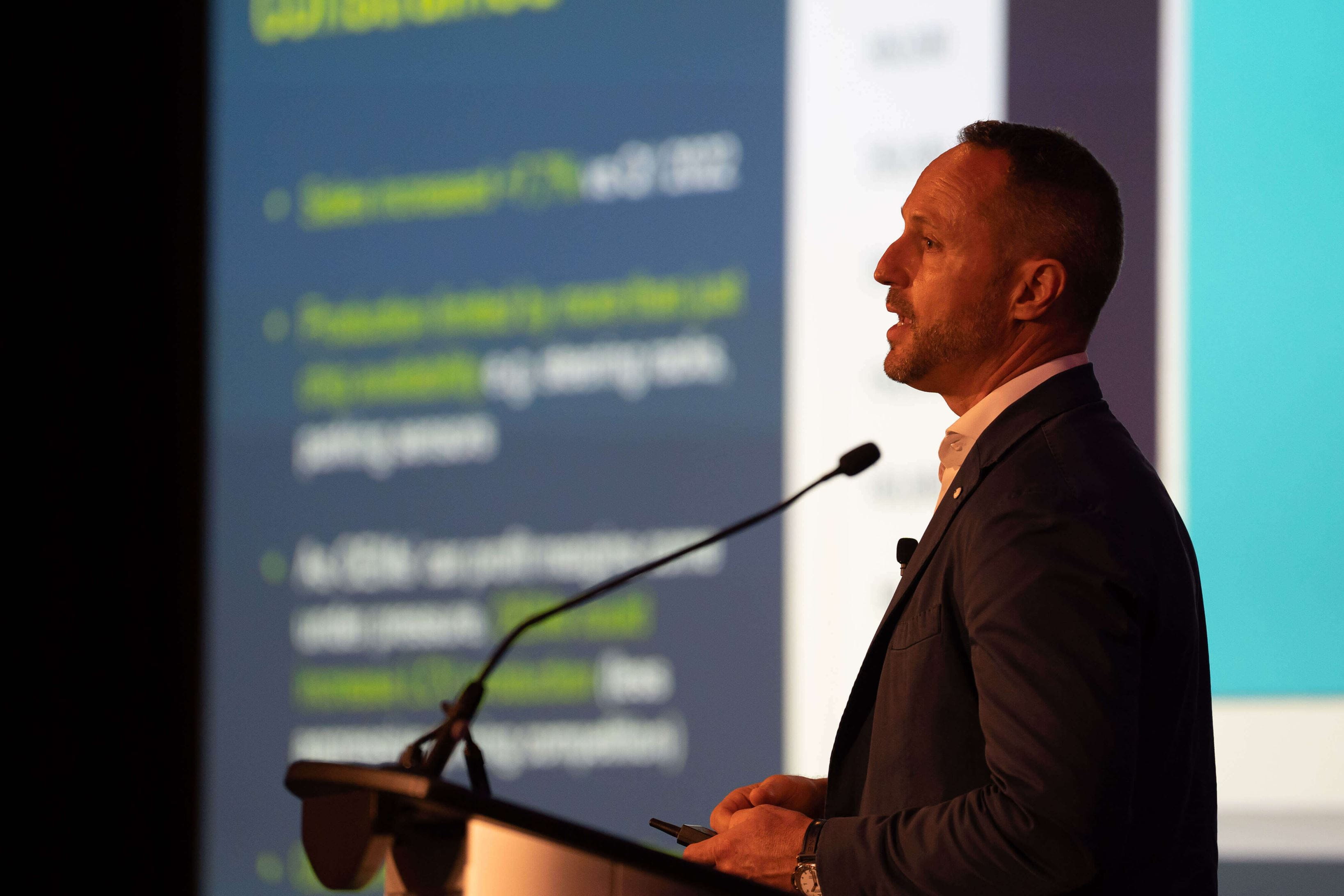 Wrapping up: Ayvens at Global Fleet Conference 2023
3 min to read
International
---
The Global Fleet Conference (GFC) is a chance for the corporate fleet community to connect, discover new technologies and hear all about the latest trends. Hear from Gavin Eagle who joined many attendees in Miami, Florida, where Ayvens, in partnership with Wheels, was at the heart of the action!
Fleet management in Europe: What's trending today and tomorrow
I was honoured to represent ALD Automotive | LeasePlan as one of the GFC 2023 keynote speakers. First, I discussed why there's reason for optimism around vehicle production in Europe after a challenging few years, with demand slowing, the availability of semi-conductors improving and production costs dropping.
Meanwhile, car leasing prices are following overall automotive trends. LeasePlan data suggests catalogue prices are stabilising, while the average total cost of ownership (TCO) in Europe is flattening off.
Electrification still on the rise
Turning to electric vehicle (EV) developments, it's worth looking beyond Europe. I shared that 10.3 million EVs were produced worldwide in 2022: a new record! Even more excitingly, the International Energy Agency projections suggest we can expect 14 million EVs to be sold in 2023, in a 35% year-on-year increase.
The continuing rise of electrification is partly driven by new legislation in Europe, the USA, China and beyond. Of course, a successful transition relies on the right infrastructure: this is something the authorities are working on, as shown in LeasePlan's 2023 EV Readiness Index, which also confirms the good news that the EV preparedness of 22 European countries is rising.
My top takeaways for fleet managers
1.

Good news: lead times are normalising and lease prices have plateaued

2.

Electrification is here to stay – and OEMs are prioritising EVs

3.

For OEM tenders, look to Q3 onwards (and keep volumes in mind)

4.

Stay open to different makes and models

5.

Tap into your vendors' expertise to keep up with supply chain constraints
A global roadtrip
Aside from my keynote, there were plenty of other dishes on the GFC menu! Visitors enjoyed sessions dedicated to the hottest fleet topics in regions around the world, from the fleet industry's role in boosting sustainability in Latin America to the key challenges facing vocational fleets in Sub-Saharan Africa.
AI on the agenda
Elsewhere, with generative artificial intelligence (AI) on everyone's mind these days, it's no surprise that AI was the star of two talks at this year's event. As well as hearing about the role of AI and real-time data in optimising fleet management, we learnt how adding AI capabilities to fleet management software – predicting anything from vehicle demand, prices and maintenance to driver behaviour – can give fleet managers a competitive edge.
Safety first
Another central topic at this year's event? Safety. From an exploration of region-by-region solutions for minimising distracted driving to a discussion about what's behind the drastic rise in US road accidents in recent years, safe driving practices and tools were high on the agenda at GFC 2023.
In the driving seat
Of course, it wouldn't be a major fleet conference without the chance to test out the shiniest new makes and models – always a highlight for me! Among the OEMs providing us lucky attendees with a behind-the-wheel experience were Tesla, Polestar, Rivian, Stellantis and Volvo.
That's a wrap – see you next year!
I'm already looking forward to the 2024 edition of GFC – but in the meantime, you can check out our other news and events by browsing the categories above.
Published at June 12, 2023
---